Manchester Storm OSC Members 2016/17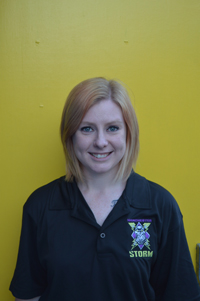 Name: Jess Patten
Title: Social Media
Jess has been an ice hockey fan for over 15 years, and aside from following Manchester Storm, is a long-time supporter of the New Jersey Devils. Her aim is to see New Jersey play at The Rock one day – hopefully in the very near future! Jess has followed British ice hockey through the EPL for the past 5 years as a Milton Keynes Lightening fan, before becoming hooked on Manchester Storm following that nail biting pre-season penalty shots win against the Nottingham Panthers!
Jess works for London Fire Brigade in Youth Engagement, working with and supporting teenagers across London. In her spare time, Jess sits on the Executive Committee and is the Secretary of a National Youth Charity, a position she has held for 3 years. She is very active on Social Media through both the Facebook and Twitter Feeds for LFB Fire Cadets, and also runs the website for the charity she volunteers for.
While only joining the Storm in its first season since returning to the Elite League, Jess only missed 2 home games, despite the very long commute to Altrincham! She regularly attended away games as well, taking advantage of the fantastic service offered by GoGoodwins Coaches. She has already purchased her 2016/17 Season Ticket and will be cheering on the team from Block 113.