Manchester Storm OSC Members 2016/17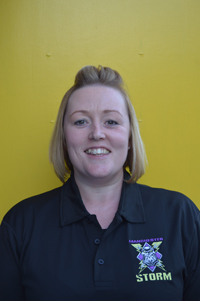 Name: Hayley Boardman
Title: Kids Club
Hayley has followed hockey since the age of eight years old, having watched teams at the old Devonshire Road ice rink such as the Trafford Metros and the Altrincham Aces. Hayley watched the Manchester Storm in the 'Arena' days, and was a cheerleader with the drummers! She then worked on the merchandising team and sat regularly in Block 103.
Hayley was a volunteer at the Storm in their first season back helping fans through the pre-paid doors and staffing the stairs by Block 112. Hayley has been working in childcare for 18 years, covering various roles such as working abroad as a children's Holiday Representative, to being Deputy Manager of a children's day nursery. Hayley holds a Foundation Degree in Early Years Practice, a Paediatric First Aid Certificate, and is Level 3 Makaton Sign Language trained.
In her spare time Hayley enjoys ballroom, Latin and tap dancing.