Manchester Storm OSC Members 2016/17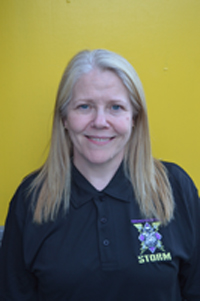 Name: Bernadette Shaw
Title: Treasurer
Bernadette is a recent follower of ice hockey, having only watched it for 4 years. She is a passionate fan of Manchester Storm and in the first season was a volunteer at the rink on game nights. You may have seen her staffing the stairs by Block 113, and manning the smoking door! However, next season she will be sitting in the stands watching the Storm play as she has already purchased her season ticket for the 2016/2017 season.
Bernadette is very proud of her "Own and Loan" Omar Pacha (#2) Home Jersey, and her Mike Folkes (#4) "Pink the Rink" Jersey from Storms first season since returning to the Elite League. Bernadette has been on quite a few away games on the GoGoodwins coaches, and intends to go to more away games next season. She is also a follower of Chicago Blackhawks and Melbourne Ice.
Bernadette had worked in banking for 23 years before deciding on a career change and moving to accountancy 5 years ago. She has vast experience in handling cash, and fully understands the banking systems available.