Manchester Storm OSC Members 2016/17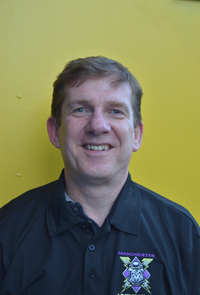 Name: Andy Shaw
Title: Vice Chairman / Secretary
Andy has only followed ice hockey in the UK for the last 4 years, but was hooked from the very first game he attended. Unfortunately, he never got to see Manchester Storm play in the Arena. He is a passionate fan of Manchester Storm, and during the first season was a 50/50 seller during home games. He attended most away games, only missing out on Dundee and Fife! He intends to attend as many away games as possible next season, and is adamant he will get to Dundee and Fife next time round. Andy has already purchased his season ticket for 2016/2017, and will be watching Storm play from the stands.
Andy is married to Bernadette and is father to son Ollie. Ollie plays the drums at home games at the top of Block 113, and also at as many away games as he can attend.
Andy has just retired from the Police, having served in both Cheshire Constabulary and West Midlands Police where he was a Detective within Criminal investigations and intelligence. Whilst serving in the Police Andy was a Federation Representative, and sat on the Health and Safety Committee. Prior to Joining the Police Andy was in the army for 7 years, serving in the Lancashire Cavalry Regiment the 14th/20th Kings Hussars as a tank crewman.
In his spare time Andy has an allotment and is a qualified Scuba diver and tries to get under water as much as possible.