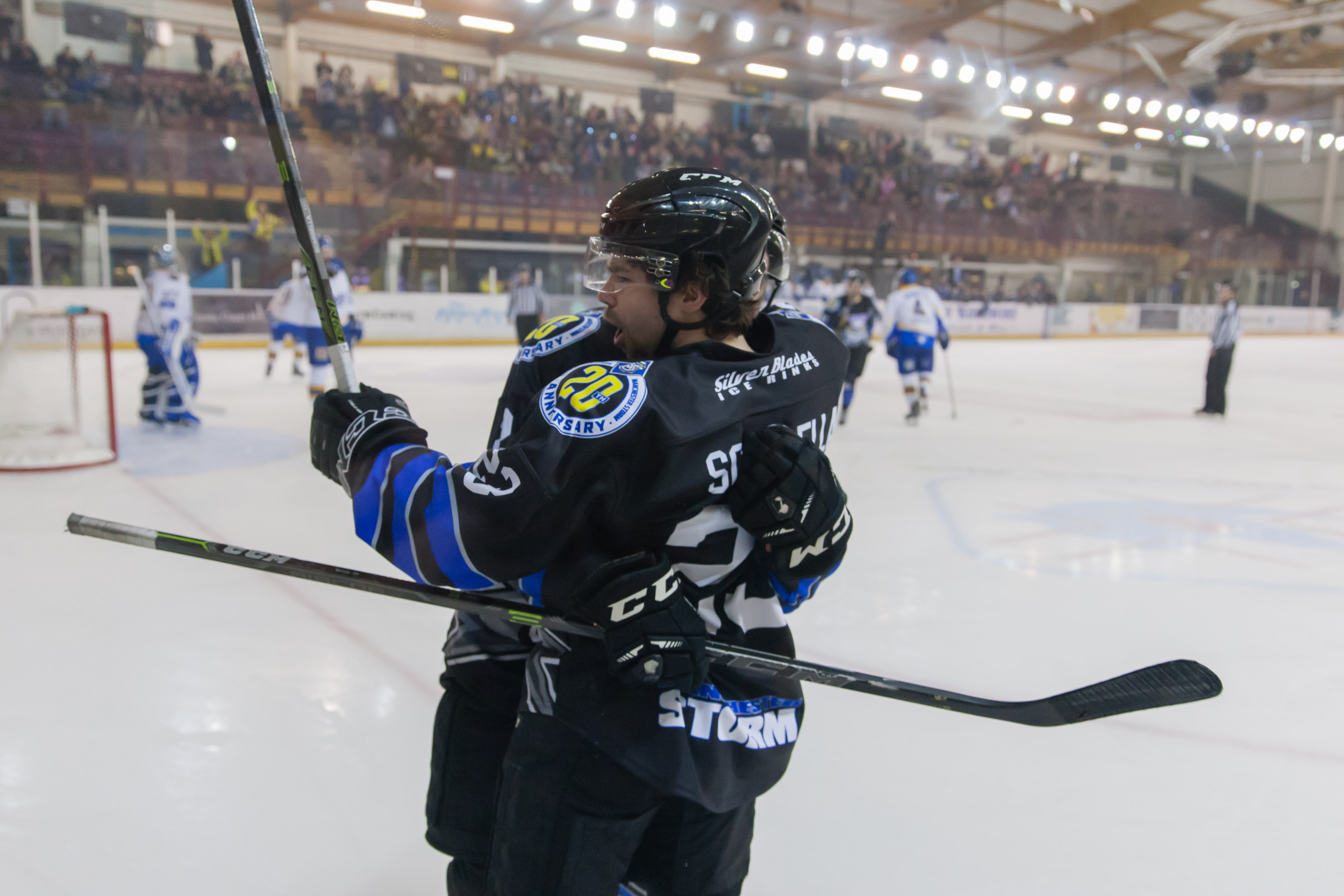 Manchester Storm 5-1 Fife Flyers
NEXT HOME GAME: The Go Goodwins Manchester Storm face the Sheffield Steelers at the Storm Shelter this Friday (3:00pm face-off) in the third and final themed "Retro Nights". Tickets can be purchased online via the website, calling the box office on tel: 0161-926-8782 or on the day at the box office.
Your Go Goodwin Coaches sponsored Manchester Storm overcame a strong and physical Fife Flyers side to win 5-1 in front of a packed Storm Shelter in Elite Ice Hockey League action, breaking a 4 game losing streak in the process.
The Storm, who were without Davy Phillips (injury) and Jarad Dickinson (Aces) played a Fife side full of confidence, coming off of a convincing 3-0 win over the Edinburgh Capitals the night before.
The first began as well as could have been hoped for by the Storm, as a Matt Sisca pass went straight off the pads of David Brown in the Fife net to the stick of Vinny Scarsella who slotted home via the 5 hole for his 17th of the season within the first minute and a half. The Storm continued to up the pressure, but the Flyers were able to equalise after 10 minutes of play, an unlucky shot that got past Zane Kalemba in the Storm net. However, not 2 minutes later, Vinny Scarsella had the Storm Shelter on its feet again as he scored his 18th of the season, & 2nd of the night, thanks to a scrappy goal slipping between Browns pads. A few minutes later, the Storm Shelter was once again on it's feet, but this time due to Devin Didiomete and Danny Stewart dropping the gloves, resulting in Devin being ejected from the game. The first closed out 2-1 for the home side, much to the delight of the Storm fans.
The second period saw a game of end to end hockey, with a much more focused Fife Flyers side taking to the ice. Despite this, the Storm were able to continue playing their simple but effective hockey to prevent them from scoring further. Paul Phillips slotted a zinger home after 15 minutes to put the Storm 3-1 before the 2nd came to a close.
The Storm came out gunning for the 2 points in the 3rd, and were rewarded just over half way through the period with a Pat Valcak goal, all but deflating the fighting Fife players, but not their fans who continued to sing all night long. The final nail in the coffin was scored by Ricard Birzinsh who nabbed goal number 5 for the Storm with 41 seconds left on the clock, sending the Storm fans home with a perfect Christmas present.
Next up is the long drive south to the Cardiff Devils on the 30th of December.
MOM for the Manchester Storm #40 Zane Kalemba
MOM for the Fife Flyers #10 Stephen Gunn