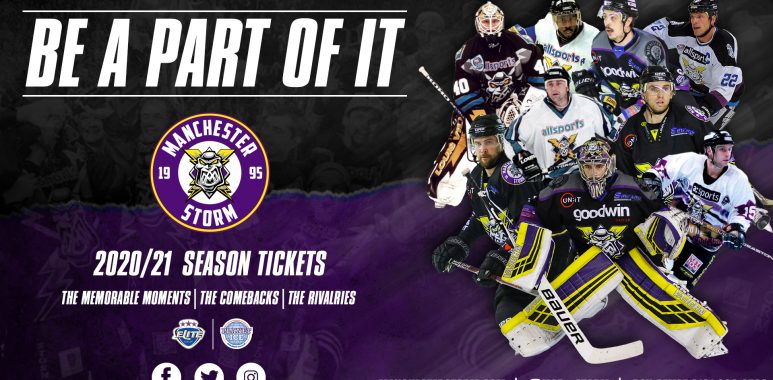 MANCHESTER STORM 20/21 SEASON TICKET UPDATE: JULY 2020!
First of all, we'd like to thank each and every hockey fan that has taken part in our online '50/50′ and jersey raffles so far this off-season, the contributions are going directly back into the running of the club during this difficult period caused by covid-19.

There isn't a huge amount of news since our last update from the 29th June but we wanted to touch base with you all.
The easing of Government restrictions is now well underway here in the UK, but we still await crucial guidance from the UK Government with regards to what our 20/21 Elite League will look like and when it will take place.
Whilst we await the guidance,  the club have decided to delay any payment taken for our 2020/21 Elite League Season Tickets until Tuesday 1st September 2020. 

We are also pleased to announce the new date for Season Ticket renewals. We are giving all 'current' Season Ticket holders until Monday 31st August 2020 to enter your applications to reserve your seat for the upcoming Elite League season, or even if you'd like to change seats, just let us know on the application! Don't forget, you can take advantage of our #EarlyBird discount right up until this date and as mentioned, you won't have to pay a penny until September 1st 2020 at the earliest.
We hope to have a more definitive update for you all over the coming weeks.
Head Coach, Ryan Finnerty is hard at work behind the scenes building the 20/21 Season squad, we hope you're as excited as us by the return of Tyson Fawcett, Cam Critchlow and newly announced Scott Simmonds! We want YOU to be part of our upcoming Elite League season, sign up NOW and reserve your seat whilst taking advantage of the #EarlyBird discount!
To apply for 2020/21 season tickets, download the application form here; Application Form and fill it in. You can save and send them back via email to seasontickets@storm-office.com.

Our 2020/21 Season Ticket application form, terms & conditions and the payment options are all available to download below!

Early Bird Prices;
Adults @ £465
Concessions @ £315
Children @ £215
Full Prices;
Adults @ £510
Concessions @ £360
Children @ £240
If you have any questions or would like help during the application process, please do not hesitate to get in touch at seasontickets@storm-office.com
Our latest online '50/50′ raffle is now LIVE and you can take part by clicking the following link; https://bit.ly/StormJuly5050 – Tickets are just £1 and you could walk away with 50% of the prize pot, with the other 50% going directly into the running of the club.
#WeAreStorm | #BePartOfIt