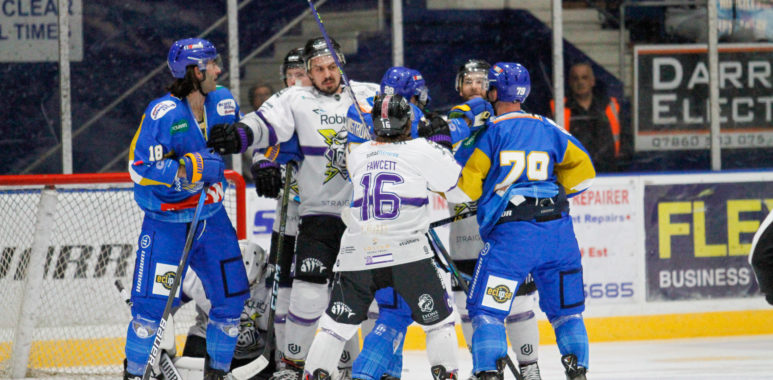 Manchester pick up maximum points after big win in Scotland
Manchester Storm logged their first road win of the 2022/23 season with an impressive 5-1 win in Kirkcaldy over Fife Flyers.
In an end-to-end opening period, the home side led at 18:37 through Janne Laakkonen's nice finish off a neat pass from Jan Kloz.
That was to be the only real highlight for the Flyers, however, as they found themselves a goal behind after period two. Jesper Ohrvall's excellent wrist shot from the circle on the powerplay draw Manchester level on the 30-minute mark before Cameron Critchlow finished at the back post from Scott Simmonds' feed following Jake Bricknell forcing the Flyers into a turnover in their own zone just 71 seconds later.
46 seconds into period three, Zac Hermann put Storm two ahead with Tyson Fawcett making it 4-1 at 45:29. Ohrvall added his second of the night with 4:47 to play to give Manchester a four-goal road victory.
Goals from Ohrvall (2), Fawcett, Herrmann & Critchlow.
We take on Glasgow Clan Sunday 25th September inside the 'Storm Shelter' and tickets for this fixture are available to buy online HERE or by calling 0161-926-8782.
There will be tickets available on the doors for this fixture at Planet Ice, Altrincham. 
– Doors open 4.30PM
– Face-off is 5.30PM
– Tickets from £10
– Family tickets available
– Train & tram links adjacent to venue (Altrincham)
– Car parking available (Free on Sundays)