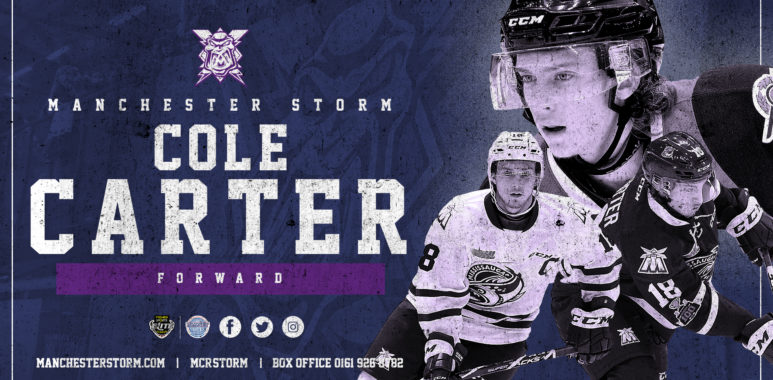 MANCHESTER GET CARTER AHEAD OF NEW SEASON
Manchester Storm are delighted to announce the signing of forward Cole Carter, most recently of HC Poruba 2011 (Czechia2).
The speedy forward comes from excellent major junior stock, as Carter represented Windsor Spitfires; Kitchener Rangers and Mississauga Steelheads in the OHL from 2015-2019. During this time, the forward tallied 179 points (79G 100A) in 253 appearances.
In his senior year, Carter was handed the captaincy of the Steelheads – in a squad that comprised of current NHL players: Ryan MacLeod, Thomas Harley and Owen Tippett. This increased responsibility was repaid by Carter – as the forward went on to produce 68 points (35G 33A) in only 61 matches.
A move to the university of Carleton, in Ottawa, got off to a promising start for the right-winger. In 2019-20, the forward produced 21 points (8G 13A) in 24 outings – before the pandemic started to disrupt all USports fixtures.  
By December 2021, Carter would be testing himself in the world of professional hockey. A contract signed to HC Poruba 2011 (Czechia2), in Ostrava, gave the forward a first taste of the professional game. The right-handed shot will be arriving in Manchester shortly to continue his blossoming hockey career.
Matt Ginn, Head Coach, commented on his latest recruit:
"Cole is a very dynamic offensive player – that is coming to us a little under the radar. He sees the ice really well and has the ability to find open space in dangerous areas. He has made the decision to sign in Manchester with other offers on the table, as he sees the Elite League as a great stepping stone for him to kickstart his professional career. 
He is young and hungry to improve further. If you look through his major junior career – he has put up consistent numbers throughout the years and has been unfortunate with the pandemic stifling his opportunities lately. I know he is looking forward to his first full season in the professional ranks and I feel like he might surprise a few people this season with his skillset."