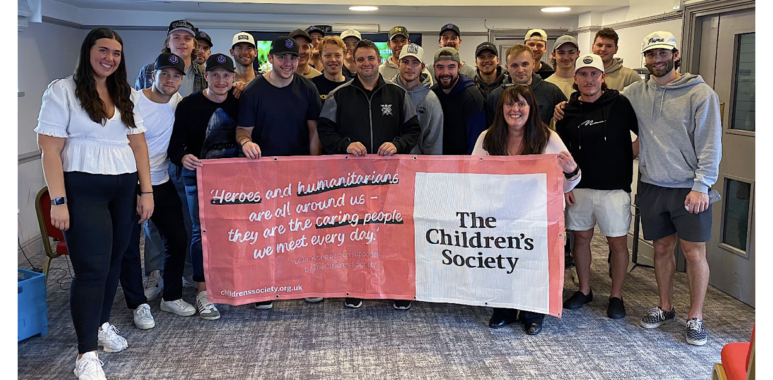 Kicking up a Storm to help charity give vulnerable children hope
Ice hockey stars will 'stick' up for vulnerable children through a partnership between Manchester Storm and The Children's Society.
The Altrincham-based Elite Ice Hockey League club will support the national charity, which has a base in Wythenshawe, and supports children and young people in Greater Manchester and across the country facing challenges like abuse, exploitation, going missing and mental well-being. 
It also campaigns for changes to policies and laws to benefit children, including around poverty and the cost of living.
The partnership was launched at the club's Storm Shelter home at Planet Ice Altrincham ahead of the Challenge Cup clash with Sheffield Steelers on Saturday 5 November. It got off to a winning start, with a 6-4 victory for Storm and will run until the season ends next spring.
Several fundraising activities have been planned. These include donation requests for essentials which can be dropped off on home match days for distribution to children and young people supported by The Children's Society in Greater Manchester and other areas of the North West.
The charity's National Operations Manager, Ellie Fairgrieve, delivered training for Storm players on understanding, identifying and reporting risks and harm to children and young people like exploitation and abuse – and on how the club can act as a community guardian, engaging them in positive activities.  
Jo Nicholson, North West Community Relationship Manager at The Children's Society, said: "Our partnership with Manchester Storm brings together a love for sport and the community. 
"It focuses on a joint mission to give hope to the most vulnerable children in Greater Manchester and across the North West. 
"If the energy and passion from this team and their supporters on game day is anything to go by, this will be a fun, lively and successful partnership which will make a real difference to children and young people."
Ric Thorpe, from Storm Support, said: "We are thrilled to be working with The Children's Society and cannot wait to get this partnership started. 
"We hope to support The Children's Society's work by providing match tickets to vulnerable young people and create a safe space at the Storm Shelter for them to enjoy our great sport.
"We aim to attend local schools and provide well-being talks to pupils while introducing them to ice hockey. 
"We will also act as a collection point for donations of vital supplies that can really make a difference to young people's lives. 
"There will be a different focus each week and you can donate items to the Storm Support Desk on match nights."
Supporters can donate items on home match days at Planet Ice Altrincham at a special collection point at the Storm Support Desk by the café. Suggested donations include everything from toiletries and books to craft materials, supermarket vouchers and Christmas selection boxes. There are options to donate money on match-day in Children's Society collection buckets or by scanning QR codes displayed around the rink titled 'Supporting our communities'. 
People can still drop off on match days if they do not have a match ticket if they speak to a steward on the door, or they can arrange another time by calling Jo Nicholson on 07725 757230.
Money can also be donated via a Just Giving link which can be shared on social media to spread the word, and which also includes a list of suggested items to donate.
To find out more about supporting The Children's Society, contact Jo Nicholson on Jo.Nicholson@childrenssociety.org.uk or Ric Thorpe on community@storm-office.com who can also help with ticket bookings.
For more about Manchester Storm, the latest fixtures and to buy match tickets visit www.manchesterstorm.com/