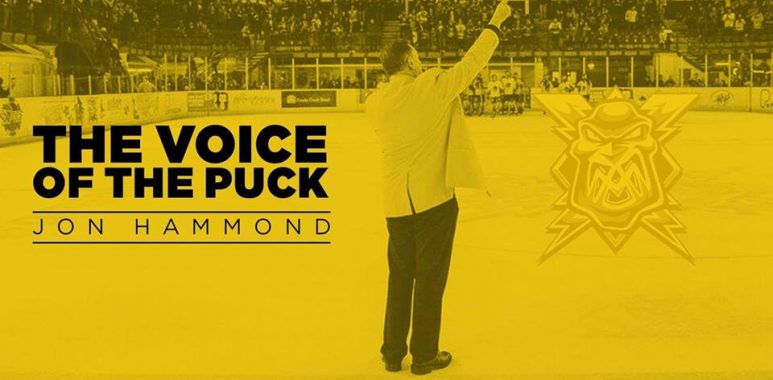 Latest News
Match Previews
WEEKEND PREVIEW: Machester Storm to host Jon Hammond Retirement Night!
Tickets for Storm's upcoming home game against the Dundee Stars can be ordered online HERE, or by calling the Box Office on 0161 926 8782, or in person at the box office. Face-off is Saturday 2nd March, 19:00 face-off. This game is also the Jon Hammond Retirement Night, so come and show your support, as we give the legendary match night entertainer a night to remember.
Last weekend saw a special game at home, as the Manchester Storm helped kick-start Paint Altrincham Pink Week. The Storm came out on top beating the Sheffield Steelers 5-4 in regular time. An amazing amount of money has been raised for Prevent Breast Cancer Charity UK, and we would like to say a massive thank you to all involved in making that happen. The amount raised currently stands at £15,300. Stay tuned for our final total!
MANCHESTER STORM V DUNDEE STARS – SATURDAY 2ND MARCH, 19:00 FACE-OFF, PLANET ICE ALTRINCHAM
Tonight is another special game, as the Manchester Storm say thank you to legendary match night presenter, Jon Hammond. The club have framed his renowned yellow jacket, which will be presented to Jon at the game as a thank you for all the hard work and effort he put into the club, during Storm times both old and new.
With Dundee currently sitting only one point behind the Storm in the EIHL table, this game is crucial on the run up to playoffs. It's sure to be an exciting game to witness, as Storm aim to retain their place in the top eight.
The last time the two teams competed for two points on home ice was just two weeks ago. Storm took the two points in regular time winning 3-2 – goals from Hammond, Stadel and Auger.
The Stars announced a few days ago that defencemen, Petr Chaloupka and Mike Sullivan will be back in this weekends lineup, following injuries that left player-coach Omar Pacha recently stepping back onto the ice to help out.
Returning to the Storm lineup tonight is defenceman, Linden Springer. Evan Richardson is also returning to tonight's lineup, after concussion saw him sitting out for the last few games. Hull Pirates', British forward, Bobby Chamberlain is stepping up onto the squad this evening. Tonight sees the return of Ash Smith as backup netminder.
Don't forget, if you were a lucky winner of the special Pink the Rink jerseys following Tuesday's raffle draw, you can go and collect your jersey post game. All you need to do is head to Jack's bar, where you will get a photo with said player and have the opportunity to get it signed. Make sure you bring your jersey winning raffle ticket with you as proof.
MATCH NIGHT INFORMATION
Doors open Saturday 2nd March, 18:00PM
Face-off is 19:0PM
Tonight is Jon Hammond's retirement game, please arrive with good time, as he will be doing a speech prior to the game
If you won a special Pink the Rink jersey on Tuesday, make your way to Jack's Bar post game in order to have a photo with the player and collect your jersey
Tonight you can win Captain, Dane Byers' jersey in our Shirt off the Back raffle
Also up for grabs is a signed stick. Tonight's choice is Matt Ginn and stick raffle tickets can be purchased by volunteers around the rink
Ticket information for games can be found here
Visit  the OSC stall underneath block 113 to purchase 50/50 tickets, also enter the match night "Chuck A Puck" competition
There's still time to sign up to some OSC events for the remainder of the season; from bowling, to the end of season awards night
Storm TV have you covered if you can't make tonight's game, buy the webcast here
Don't forget Planet Ice Altrincham are offering a free post game skate this Saturday. It is free with your own skates and just £2.50 for skate hire
The Station Hotel – Storm's official pub, will be open to fans for pre-match drinks
You can find Information for the rinks entrance arrangements here
If you're looking at group bookings for any remaining games this season, contact liam@storm-office.com for more information
You can now vote for the Man of the Match following home games via menti.com, keep your eye on the jumbotron for more information at the game
BELFAST GIANTS V MANCHESTER STORM – SUNDAY 3RD MARCH, 16:00 FACE-OFF, SSE ARENA
The team make the trip over to Belfast to face the Giants for the penultimate game of  the season. Storm will be pushing for two points on the road, in order fight for a top eight position in the playoff push. They will next face each other on home ice on Friday 22nd March, 19:30 face-off.
If you aren't making the trip to the SSE Arena, you can get the webcast here.
There's still a few players jerseys available to own and loan this season. More information can be found here. Keep your eye on the Official Supporters Club social media for information on kit club and upcoming events!