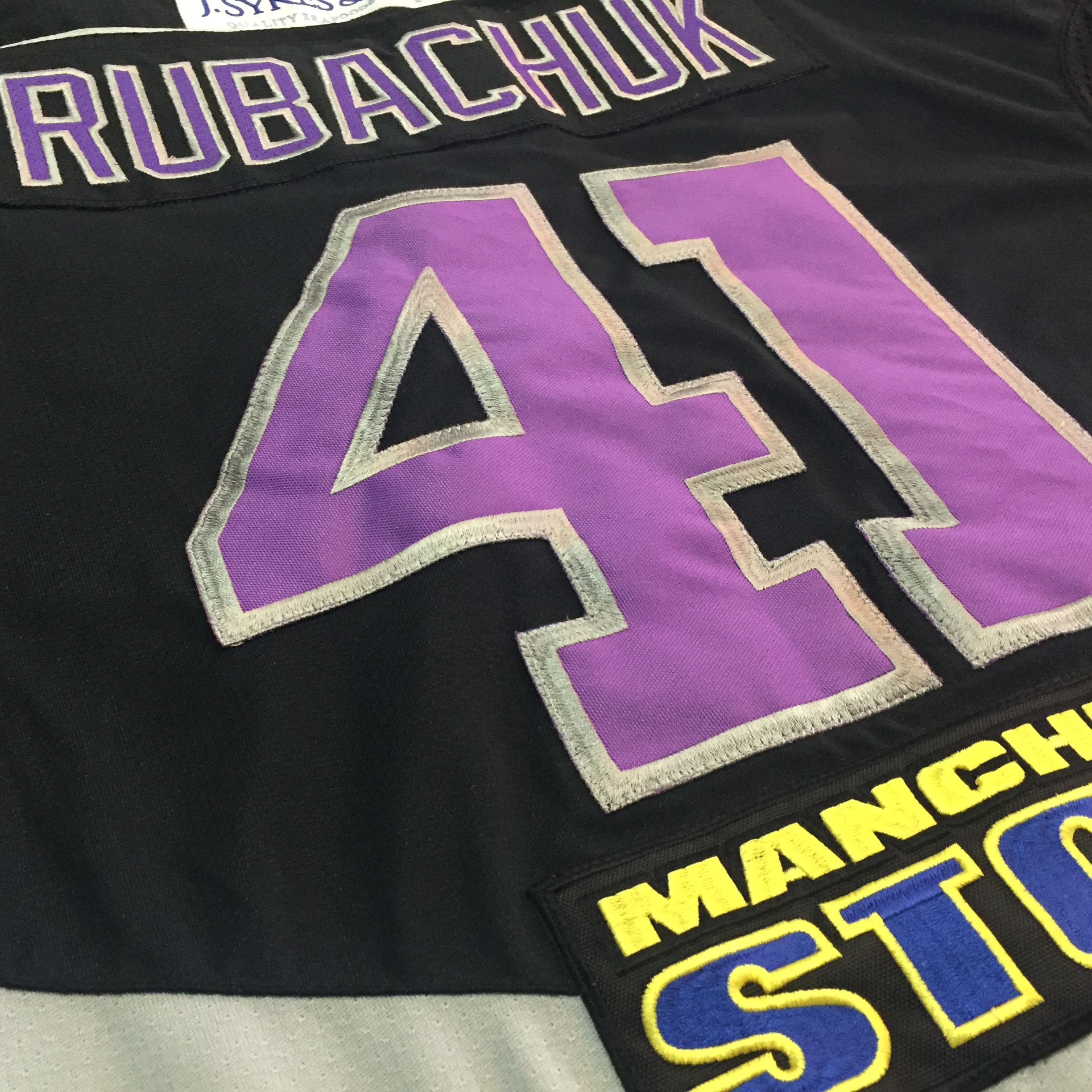 IMPORTANT INFO RE RUBACHUK GAME – SUNDAY 19th FEB!
TICKETS: The Go Goodwin's Manchester Storm are back in action on Sunday 19th February as we face the Sheffield Steelers in EIHL action, as well as welcoming back Storm legend, Brad Rubachuk for his jersey retirement. Faceoff is at 5:30 pm and tickets can be ordered online, by calling the box office on 0161 926 8782, or in person at the box office!

RUBY NIGHT- SUNDAY 19th FEB!
So, it looks like it's going to be another packed out Storm Shelter this coming Sunday & what a special occasion it promises to be, with the LEGEND Brad Rubachuk from the original Storm, returning to have his #41 jersey retired to the rafters!
With so much going on at the game on Sunday, we wanted to let you all know the planned version of events to ensure everyone is fully up to speed prior to the game!
Ok, so here goes!
1- Doors OPEN at 4.30pm. We are asking everyone to set off from home in good time & get here EARLY! The Shelter is going to be packed, so we please ask you all to come to the rink early & get the atmosphere pumping!! Parking will also be at a premium, so please follow our handy guide to all availabe parking and travel options, located HERE.
2- Brad Rubachuk will be available for signing jerseys/merchandise BELOW the Skate Hire section from 16.45-17.10pm. A table will be set up there, and we ask people to form an orderly queue and to try be as quick as possible with what you wish to get signed, or photos you wish to get taken, to allow everyone the opportunity to meet & greet Brad. If time runs out, don't worry, there will be other opportunities to meet Brad during the evening. (See below).
3 – We are asking ALL fans to try and be in your seats for 17.15pm at the latest.
4 – The Storm player entrance & Rubachuk ceremony will begin at 17.20pm sharp.
5 – Game starts at 17.30pm
6 – We're giving out 4000 FREE rally towels, 2000 in purple & 2000 in yellow, and we want you to show YOUR pride in the Storm, and get them spinning – especially when Jon Hammond gets the Shelter rocking pre-game! How do you spin your rally towel? Check out this video:
7 – SOTB on Sunday is #29 Eric Neilson! A reminder that Neilson will change out of his already purchased gamer jersey at end of the second period to the SOTB jersey for the final period.
POST GAME- FOR ALL THOSE THAT PURCHASED THE RUBACHUK GAME-WORN JERSEYS:
With the 72 player jerseys to be handed out, we need adequate space in which to do this, so please help us and follow the below guidelines after the completion of the game.
1- So, again, for all those who purchased the Rubachuk jerseys, please make your way to Blocks 110 & 111 post match. Please allow approx. 10 mins post the players leaving the ice before we start handing out the jerseys.
2-ALL the jerseys: away player warm up jersey, away player jersey, home warm up & home player jerseys will be brought to these blocks, where we will present them to the owner in NUMERICAL PLAYER order. So, all four of #2 Omar Pacha's jerseys will handed out first, followed by all four of #4 Adam Harding's jerseys, followed by #7 Connor Varley and so on and so on. PLEASE ensure if you have purchased a player jersey, to be in Block 110 & Block 111 approx. 10 mins post players leaving the ice.
3-The player & Brad Rubachuk himself will present the jersey over to you, and a photo will be taken by our club photographer. You can get your jersey signed by Brad & the player that wore your jersey at this stage also.
POST GAME WITH BRAD:
1- After Brad & the players get through presenting all the jerseys to fans who have purchased them, Brad & his family plus all the players, will make their way to Jack's Bar in the rink, where again, fans will have the opportunity to get autographs & photos taken.
CLUB SHOP:
We have spoken to our suppliers for the Rubachuk jerseys, and they are able to take a one off order for a limited amount of replica Rubachuk jerseys. These MUST be ordered via the club shop, and can ONLY be ordered on Sunday @ the game. The club shop will be open from 4pm on Sunday (30 mins pre doors). The final chance to order these jerseys will be 30 minutes post the end of the game, again, in the club shop only. NO further orders will be taken after this time. Size guides for ALL replica jerseys will be available in the club shop for all who wish to place an order to try on, to ensure you order the right size. Prices for these replica jerseys are below:
PLAIN: (NO NAME OR NUMBER)……
1- YOUTH SMALL/MEDIUM- YOUTH L/XL- YOUTH XXL= £55
2- ADULT- MEDIUM/LARGE/XL/XXL- £80
CUSTOMISED: (WITH A NAME & NUMBER)…..
1- YOUTH SMALL/MEDIUM- YOUTH L/XL- YOUTH XXL= £95
2-ADULT– MEDIUM/LARGE/XL/XXL- £115
We have a very small quantity of Rubachuk replica jerseys (name & number) available for purchasing on the day in the shop. There are 6 BLACK adult LARGE Rubachuk jerseys and 6 WHITE adult LARGE Rubachuk jerseys. They have all been signed by Brad himself, but are not obviously game worn by players. These will cost £115 each & will be on a strict first come, first served basis in the club shop on Sunday. (OPENS AT 4pm). Don't be put off by thinking a LARGE may be too small, they probably equate to a 2/3XL of our current Storm jerseys in terms of size. Again, there are jerseys (not Storm) in all sizes in the shop that you can try on for size guides.
Also, in the shop at the game on Sunday, we will have the following for purchasing.
1- 100 limited edition black Rubachuk t-shirts priced @ £20 each. Varying sizes available.
2- Limited edition signed commemorative OSC Rubachuk pucks priced @ £15 each.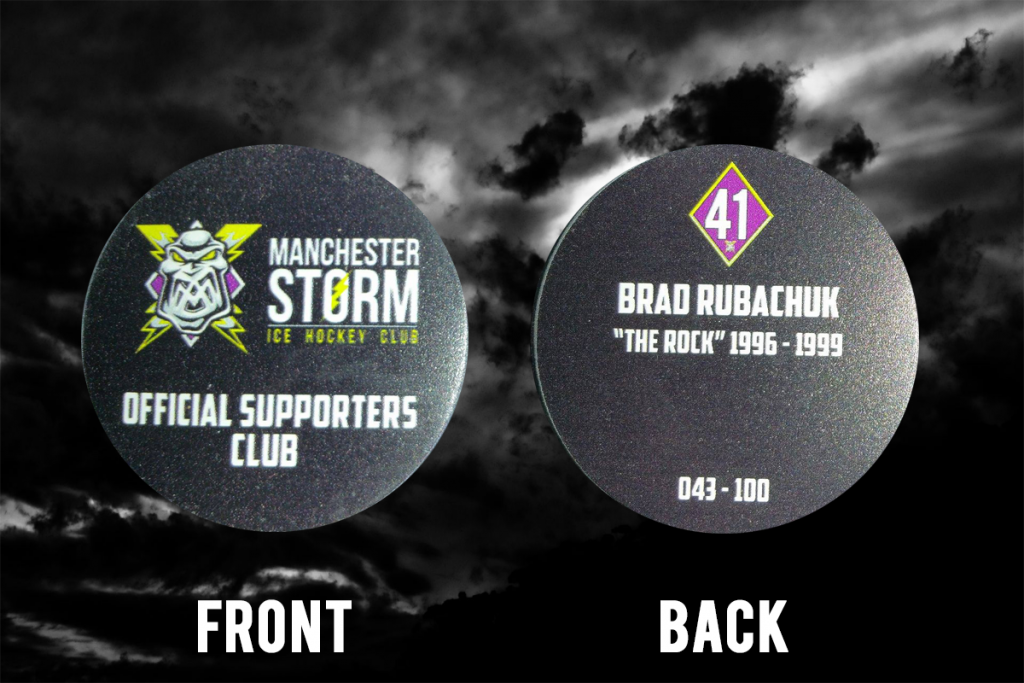 3-Limited edition signed Rubachuk prints, of which there are two variations to choose from, priced @ £15 each.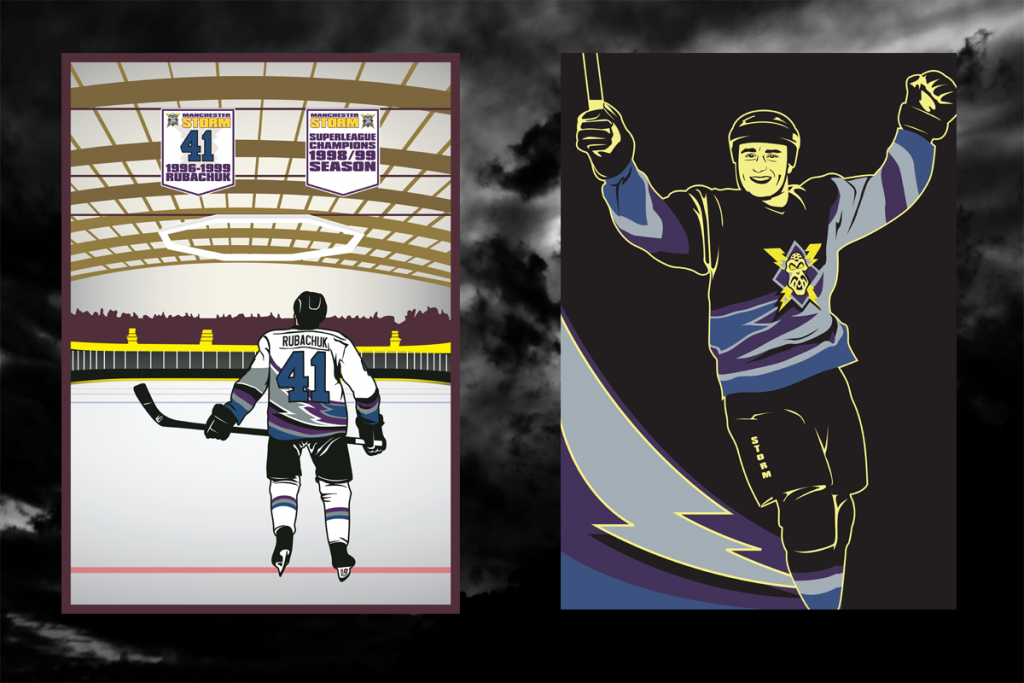 We hope this has given all fans a clear outline of everything for Sunday! We look forward to welcoming everyone to the Storm Shelter for this really special game. Let's have the rink rocking the whole 60 minutes! #WeAreStorm!!
THERE IS NO POST GAME SKATING ON SUNDAYS. IF YOU HAVE YET TO GET YOUR TICKET FOR SUNDAY'S GAME, GET IT NOW! (BOX OFFICE- 0161-926-8782 OR Book online at the Storm website or via the Storm App).