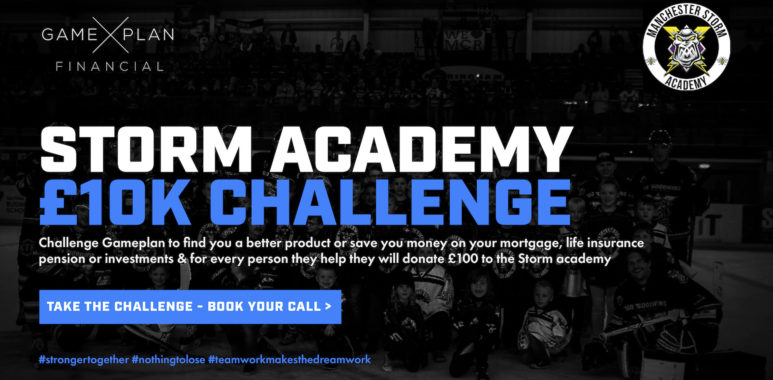 GAMEPLAN ACADEMY £10,000 CHALLENGE! – Supporting Grass Roots Hockey
A pledge to support grassroots hockey at Manchester Storm Academy
"Raising funds to spend on much needed ice time, coaching, and equipment for our future stars" 
Inspiring financial services provider and long standing friend of the Storm, Gameplan Financial, have pledged to help raise £10,000 for much needed ice time, coaching, and equipment for our future stars of the game. 
…
Gameplan Financial have committed £100 to the Academy for each person they help secure a better product or simply save money on their mortgage, life insurance, pensions, and investments. In short, as they work tirelessly to find you the best Mortgage rate, life insurance policy, and or plan for your pensions & investments – the academy benefits. And in the rare instance that they can't save you money or improve your financial resilience, they can guarantee personal peace of mind for you and your family. 
Founded by former Elite League player Paul Sample, the business has been established with the sport at the very core. Giving athletes including many Elite League hockey players a route to transition from the game towards new challenges and goals. Gameplan Financial specialises in Mortgages, Life Insurance, and Wealth Management (including pensions and investments). As the team is made up of both retired and active athletes, the strength of the company is built upon the understanding of performing at the highest level. Gameplan champions the very same dedication and commitment from the ice to achieving the best results for their clients. 
How can you help? Simply if your current mortgage agreement is due to expire this year, you want to establish true peace of mind knowing that your family is protected, you want your pensions and investments working harder for you, or you simply want to start the conversation about achieving a little more financial stability, then challenge the team. See exactly why Gameplan Financial are so passionate about finding the best possible product for their clients and in doing so secure some much needed funds for grassroots hockey. 
What next? All it takes is a brief consultation, for which there is zero cost or obligation. 
If you already have these things in place, challenge Gameplan to scrutinise your existing policy, let them cross the t's and dot the i's. You may have some genuine holes in your defence. Advice is always free and therefore there really is nothing stopping you from getting off the bench and into the game. 
Book HERE
"Teamwork makes the dream work. Let's smash that £10,000 target"
T: @GameplanF
F: @gameplanfinancialltd 
I: @gameplanfinancial