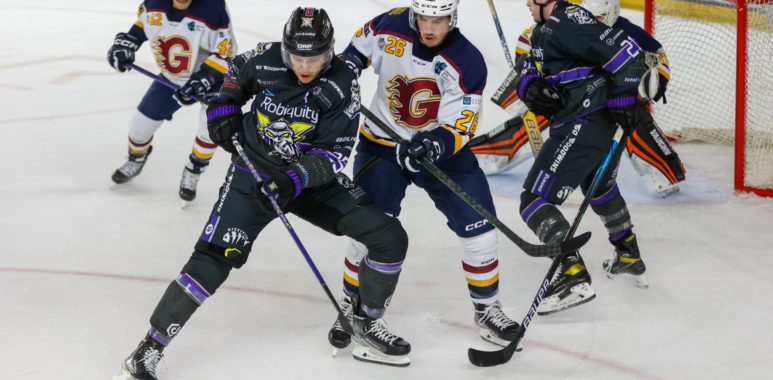 Final Result: Storm 3-6 Flames
A disappointing midweek performance by the Storm saw them defeated, 6-3, by a smooth skating Guildford Flames side.
The Storm got off to the perfect start through Johnson, who was on-hand to convert Barrow's initial wraparound attempt, after just 41 seconds. However, this initial goal would unfortunately be the only high point in an otherwise extremely difficult period for the hosts.
Two goals in quick succession by McNulty and Eriksson saw the Flames snatch the lead after less than three minutes. A costly turnover by the Storm, whilst on the powerplay, enabled Tait plenty of space to easily fire beyond Lavigne in the 10th minute.
Things would go from bad to worse in the opening twenty minutes, as another defensive breakdown allowed McNulty to secure a 19-minute brace and send the visitors into the first intermission break with a comfortable three-goal cushion.
The opening phases of the middle period continued to favour the visitors until a moment of brilliance from Carter, in the 29th minute, put the Storm within two goals. Unfortunately, just 34 seconds later the Flames restored their three-goal gap through a heavy slapshot from Marklund. A succession of powerplay opportunities were offered to the Storm, before the end of the second, but some disruptive work by the visitors penalty kill largely prevented the hosts powerplay from threatening McAdam's goal.
A well-managed final twenty by the Flames saw them thwart any attacking opportunity fashioned by a desperate Storm outfit. A late consolation goal from Barrow, with a little over two minutes remaining, gave the sizeable midweek crowd some hope. However, the Flames quickly quashed any chances of an unlikely revival after they took full advantage of the empty net to secure a deserved victory.