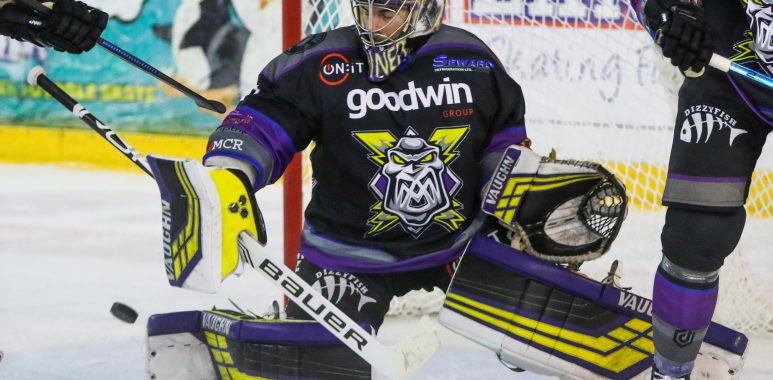 Elite League News: Player of Week 20: Matt Ginn
Manchester have been on a decent run since Christmas. After losing both the festive games to Shefifeld, the Storm have taken three out of four points against Guildford, beaten title-chasing Cardiff, and got a big win against fellow playoff hunters Fife this past weekend.
Saving almost 95% of the shots he faced in two Week 20 games saw Matt Ginn chosen as our player of the week!
"That Cardiff game we knew they'd come really hard, especially because we beat them the week before and they don't lose too many games in a row," began the Storm netminder. "We've had close games with them all season so far and this one was no different. We were almost there – we got a big goal to tie the game, went behind again but then put one in just after the buzzer. It was a disappointing loss, but the whole group did a good job regrouping to then go up to Fife, which is never an easy place to play, and coming out with a big win."
The Storm have been low on numbers with injuries to key players, but Ginn and his team don't let that affect them. "We've had some injuries lately and guys have been logging a lot of minutes when we're short of bodies, but that's no excuse," he said. "We know we can play with anyone and we have been a lot better since New Year."
With big wins but still to find consistency, how are the emotions in the locker room? "It's part of being a professional hockey player – you can't get too high or low, especially in a league like this where everyone beats everyone and you have so many good teams," explained Ginn. "If you win one night you need to be ready to go again, and if you lose then you have to be able to flush that out and focus on the next one"
Ginn has faced the most shots of any Elite League goalie – 1236 in 34 games so far! "I think as a goalie you like feeling the puck early, but for me it doesn't matter if I'm facing 15 or 50 it's all about giving the team a chance to win," he explained. "I think with our rink being smaller we get a higher number of shots because everything happens more quickly and people put the puck on net sooner, but lately we have been doing a good job of boxing out and taking care of the rebounds."
Head Coach Ryan Finnerty, and other Storm players, often refer to Ginn being one of the best in the league and think he puts the team in a position to win almost every night. "It's nice to hear things like this, especially from coaches and your teammates, but it really comes down to me just wanting to give us a chance to win each game. I want the players in front of me to be confident in their game," said the 28-year-old, who is in his second season in the Elite League. "The league is definitely a step above what I thought it would be. That's not to say I came with low expectations, but the parity between teams is great and I don't think the league as a whole gets the recognition it deserves."
Heading into this weekend, with a return game against Fife on the cards, Ginn concluded: They're all big games from now until the end of the season, but with Fife so close in the standings it is important. It's also at home too, and we want to make sure we put on a good show and win more games in our own building."
Your Goodwin Group Manchester Storm are back on home ice THIS Saturday (18th January) taking on Fife Flyers as the battle for a EIHL Playoff spot heats up. Tickets for this fixture are on sale NOW online, by calling 0161-926-8782 or in person at the Planet Ice, Altrincham Box Office.
Doors open at 6pm for a 7pm start this Saturday.
#WeAreStorm #FamilyFun #ATTWWY