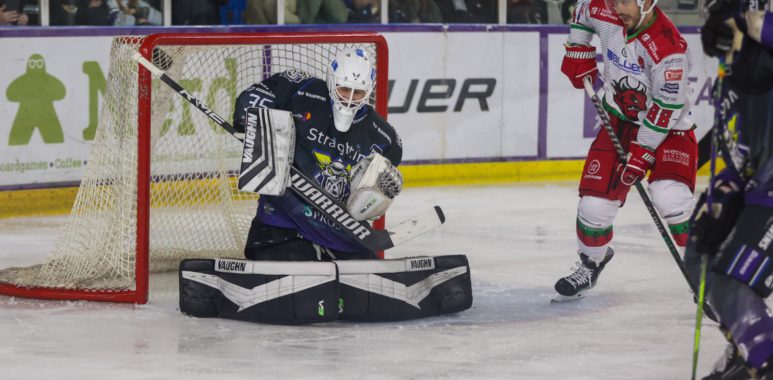 DEVILS PLAY SOLID ROAD GAME TO WALK OUT WINNERS
The Cardiff Devils were the visitors on Sunday evening at the Shelter. A reversal of last nights fixture down in south Wales. An evenly contested opening five minutes saw chances at both ends of the ice, with both sets of forward lines coming close to scoring.
The Storm weatherd their first penalty kill of the game as Martan sat two minutes for a high sticking minor – the Devils boxed out, and limited to any decent scoring chances, by the home team's penalty kill. Despite two solid powerplay opportunities and outshooting the Devils the scoreboard remained blank heading into the first intermission.
A string of highlight reel saves by Weninger during their penalty kill helped the Storm deny the visitors a chance to open the scoring. A deflected shot from the hash marks broke the deadlock at the mid point of the period. It was Crawford with the shot which was nicely tipped in by Busch infront of Weninger. Storm responded well with a hard working forecheck creating some good chances.
The offensive pressure eventually paid dividends when Johnson broke away up the left wing and floated a pass off the boards and around the back of Bowns' net, which found Ulett who fired into the wide open goal. Another tight period came to a close with the score level at one apiece. It was the Storm who came out the stronger In the third period, creating some golden chances only to be thwarted by GB netminder Ben Bowns. However, the Devils took the lead through Alderson who somehow squeezed the puck between the post and Weninger to regain their lead.
Another goal followed not long after for the Devils, when Ully and Arniel combined with a nice passing play which left Weninger scrambling to cover his far post. Ben Davies further increased his teams advantage firing home a strong slapshot to make it 4-1 with only seven minutes left on the clock. Despite their best efforts the Storm couldn't quite find a way back in to the game as the Devils bedded down to protect their lead