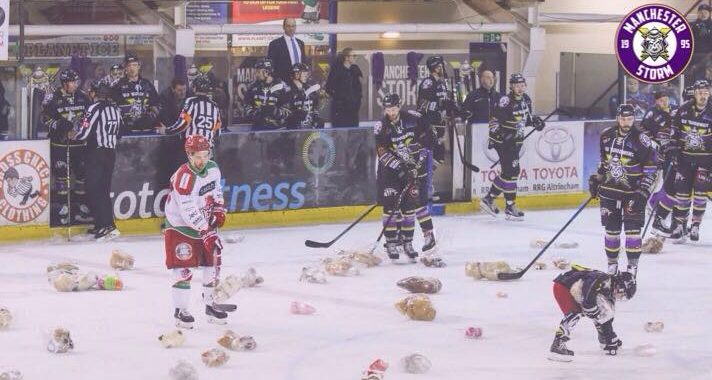 Latest News
Match Previews
MATCH REPORT: Cardiff Devils 5-2 Manchester Storm
Tickets for Storm's upcoming game against Belfast Giants can be ordered online HERE, by calling the box office on 0161 926 8782, or in person at the box office. Tonight is Hockey Fights Homelessness so bring anything from warm hats to jumpers, as we give back to those less fortunate this Christmas. 
Last night your Go Goodwins Manchester Storm hosted their annual Teddy Bear Toss event against visitors, Cardiff Devils. The players will be visiting the Royal Manchester Children's Hospital Charity on Wednesday next week, in order to deliver everyone's teddies in person.
It was the Devils who scored first under two minutes into play, as Fournier took the lead sending the puck home from near the hash marks at 1:13, assists from Martin and Pope. 4:26 saw Storm get the first penalty of the evening, Springer for cross-checking. After a strong penalty kill, Storm took some chance and play went back and fourth for a while, Storm not quite managing their first of the evening with some skillful play, gloved by Bowns.
Tensions rose as Springer and Batch dropped gloves in Devils' zone, but it was over as soon as it began, as the referees stepped in. Both players took five minute penalties for fighting, with Batch being handed an extra two minutes for initial cross-checking – all penalties taken at 8:58. It was the powerplay Storm needed, as they pushed forward and claimed their first goal of the evening and the equaliser at 10:22. It was Ehrhardt who put the puck in from a wrist shot with the assists from Linsmayer and Stadel. It was a brilliant sight to see as a sea of teddies were launched onto the ice, to be collected by both teams and members of the Manchester Storm Academy.
Just as Storm looked like they had another chance of a powerplay goal when Louis was sent to the penalty box for hooking at 12:18; Poulin was also sent to the box less than a minute later. It was just as Storm would go back full strength that Devils scored a top shelf goal on the powerplay, scored again by Fournier and the assists from Martin and Ulmer at 14:58.
As the puck rang the iron on a one timer, there looked to be a goal from Richardson in the final five minutes of play. However, this couldn't be reviewed as Storm had already used their time-out previously in the game to review another goal – play continued. At 17:07 Morrissette of Devils received 5 minutes for interference plus game penalty following an incident leaving Storm defenceman, Ruopp injured on the floor and having to be taken off to have a check up.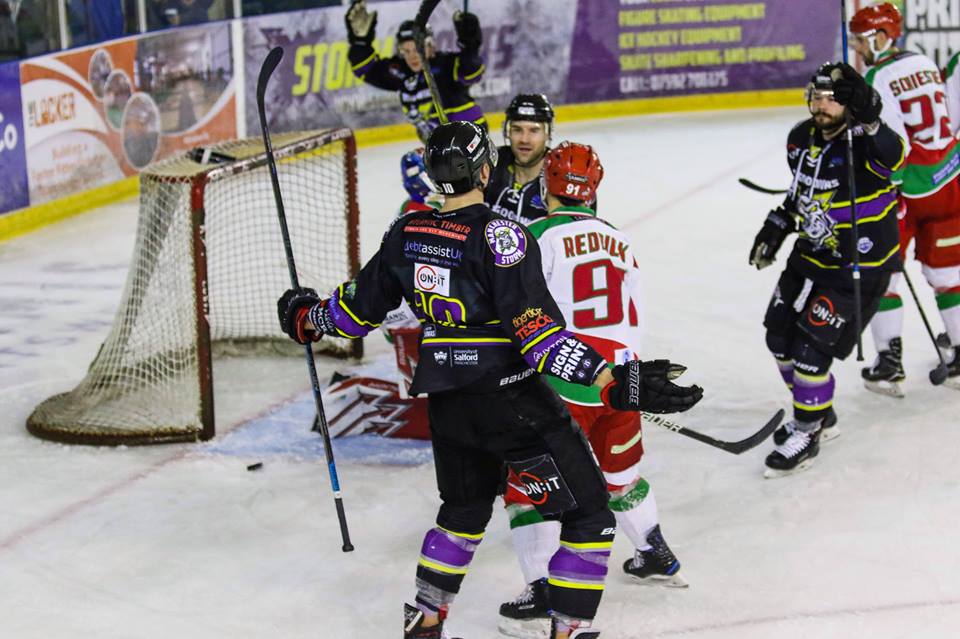 In what seemed like a game for early goals, the third goal of the night appeared at 21:49, Ehrhardt claiming his second goal of the evening on the powerplay and equalising the game, assisted by Linsmayer and Richardson. It was minutes later that Linsmayer would be given a penalty for slashing at 23:35, and Braid for slashing at 26:19, giving Devils plenty of time on their powerplay to equalise. Storm held up defensively, not letting anything past on two strong penalty kills, only to have to do it again 28:19 as Ruopp was sent to the box for slashing. Devils pushed forward with shot after shot, allowing Ginn to showcase some fantastic saves.
The remainder of the period went back and forth, some skilful plays and an occasional breakaway. In the end, neither team succeeded to get another goal, Ginn taking 16 shots on goal, Bowns 10, and the scoreline sitting at 2-2.
It was certainly an evening for early goals across each period, as Haddad put the puck past Ginn on the Devils' powerplay, assisted by Linglet and Schiestel at 43:44. Prior to this, Ruopp had been sent to the penalty box for slashing. At 47:30, Pope received a penalty for interference, giving Storm a powerplay opportunity.
Goal number four for the Devils was tapped in by Hedden at 51:14, assisted by Linglet and Reddick. Ehrhardt took a tripping call at 51:56, giving Devils more opportunities. Storm held off any more potential goals on their penalty kill, with Ginn also making an amazing old school save.
It was a third period with plenty of penalties; Springer in the box from Storm for slashing at 55:12, followed closely by Bentivoglio for Devils just 13 seconds later for hooking. Goal number five for the Devils came at 56:10 during four on four hockey, scored by Martin unassisted with a wrist shot just past the blue line.
The final two minutes of play became pretty rough as Springer was handed a two minute minor penalty for hooking at 58:17. Bakker and Louis dropped the gloves in the final minute of play, resulting in both being sent off. Bakker was handed two minutes for slashing and five for fighting, Louis – five for fighting, two minutes plus game for instigating and a further two minutes for abuse of official.  
Overall, it was a hard-fought game, Devils coming out on top with the two points and a 5-2 win.
Man of the Match for Cardiff Devils went to Joey Martin.
Man of the Match for Storm went to Dallas Ehrhardt.
Shots on Goal: Ben Bowns, 29.
Shots on Goal: Matt Ginn, 40.
Referees: Dean Smith &  Andrew Dalton.
The Storm are next in action tonight, 17:30 face-off against Belfast Giants. Why not join us on Boxing Day, as we face the Glasgow Clan , 17:30 face-off!
The Manchester Storm OSC are hosting the Storm's Christmas Party, Tuesday 18th December at Cresta Court Hotel, 19:00 – late. Email events.stormosc@gmail.com to book, or visit the OSC desk under block 113 on match nights. Check out their social media for other upcoming events! Book soon as limited spaces available.