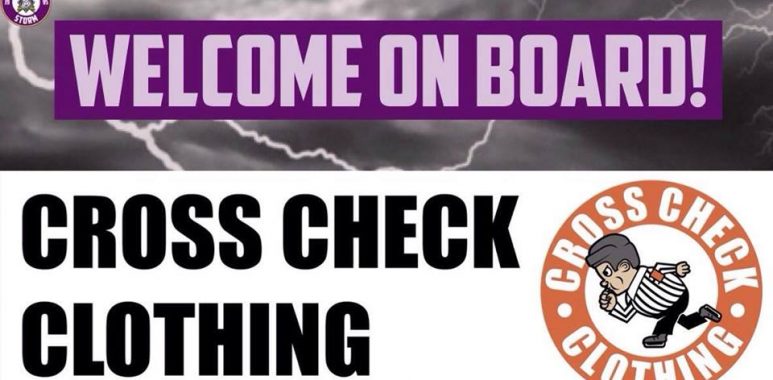 Cross Check Clothing Returns for 2018/19 Season!
Tickets for Storm's upcoming game against … can be ordered online HERE, or by calling the box office on 0161 926 8782, or in person at the box office.
Your Go Goodwins Manchester Storm are pleased to welcome ice hockey inspired apparel, Cross Check Clothing back for the 2018/19 season!
Cross Check Clothing was established in 2012 by Pete Weeks and his step-son Josh. With there not being much hockey inspired clothing in the UK, Cross Check was born. One inspiration behind the clothing company was the Stanley Cup Playoffs 2012, game three of Pittsburgh Penguins vs Philadelphia Flyers. Arron Arsham cross-checked Brayden Schrenn, resulting in a four game ban.
From seasonal ranges, to charity collaborations and pop up stalls across the UK, Cross Check Clothing have become an in demand hockey apparel.
Cross Check are also sponsoring the EIHL's number one point scorer and Team GB Gold medal winner, #21 Mike Hammond throughout this season and will be making appearances at the Storm Shelter.
Pete Weeks, business owner of Cross Check Clothing, is looking forward to joining forces with the Storm again, commenting;
'We are super excited to be once again partnering with our friends Manchester Storm and Mike Hammond! We snapped up the chance to sponsor Mike and are looking forward to heading to the Storm shelter throughout the season and bring some of our products for you guys to see. BRING ON THE STORM'
You can show your support for Cross Check Clothing by following them on social media. Keep an eye on their website for new ranges, including a Halloween launch soon.
Treat your kids to the OSC's special spooky Halloween themed party with the team on Friday 26 October, at The Station Hotel HERE. There will be games and scary chocolate making with Oliver's Chocolate Parties.