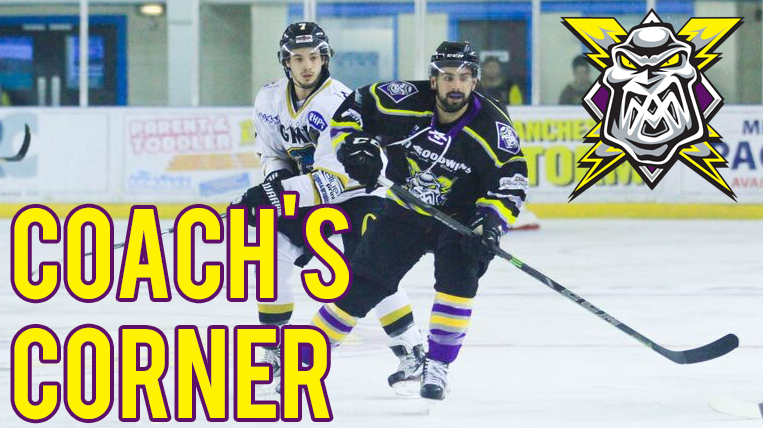 Hi Storm fans,
I hope everyone is doing well. Here are my reflections on the weekend just gone!
We knew the Fife game was a must win (every game is for here on in). We played a very smart and simple road game, we had to, as we were so low on bodies. We used our speed well and weren't forcing the puck into areas where it's dangerous to turn over the puck. Our D-core was battered and bruised, but found a way to finish the game. We were 7 forwards for most of the game which as anyone will tell you, is a majorly tough job for any player. As a coach, you just have to look back and see how the guys continued to battle even really short benched. To skate out of a difficult barn like Fife with the 2 points was huge for us.
On Sunday at home vs Braehead, we came out pretty strong, certainly for the first 2 periods. The Clan played a really smart & simple opening period. We felt like we had most of the chances but they got the lead going into the second. It was a real tight second period and we had a chance to take a lead with a 5 minute PP, but unfortunately we couldn't capitalise with the man advantage. I thought their PK made a difference all night. We were sluggish, but they played us extremely well. The 3rd period we just ran out of legs, which given our injury situation the past few weeks was understandable, but nonetheless disappointing.
 This week is all about getting prepared for the upcoming weekend! 3 games in 3 nights is no easy task, but we know how important it is for our season, so we'll be going all out for the points. Hopefully we will have a couple of players back in the line-up too, so if we maintain the same work ethic & commitment as we've shown the past month, we will be fine. We are looking forward to seeing all Storm fans in Scotland Friday & Saturday, to think inside 4 months of action we are taking a few full buses of fans all the way to Scotland is incredible.
We then look forward to seeing everyone back inside the Storm Shelter on Sunday (5pm Face Off) vs the Fife Flyers. As I say every week, bring your work friends, your family, your friends…..the Storm Shelter is the place to be!! Get your tickets by calling 0161-926-8782 or by visiting the new club website. www.manchesterstorm.com
Thanks,
Pach