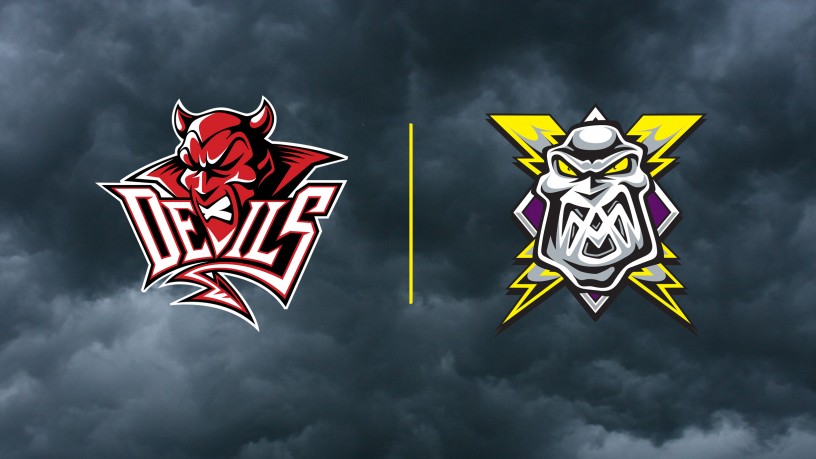 Cardiff Devils 5-2 Manchester Storm
NEXT HOME GAME: The Go Goodwins Manchester Storm face the Sheffield Steelers at the Storm Shelter this Friday (3:00pm face-off) in the third and final themed "Retro Nights". Tickets can be purchased online via the website, calling the box office on tel: 0161-926-8782 or on the day at the box office.
A heavily short benched Go Goodwin Coaches sponsored Manchester Storm led for 2 periods against the Elite League leaders, before eventually going down 5-2 to the Cardiff Devils in a thrilling game of end to end hockey.
The first period saw the 13 man Storm take on the 18 man Devils, with the Devils getting the upper hand in terms of puck control for the first 5 minutes. Despite this, they were unable to capitalise on this time in possession, and a quick breakaway by Paul Phillips, followed by a pass to Toulmin onto Sisca, led to the games opening goal, with Sisca netting his 14th of the season. With the confidence then high, the Storm continued to press hard against the Devils, and were able to double their lead before the end of the period, once again off of a fantastic Grant Toulmin pass to Ricards Birzinsh, netting his 6th of the season.
The second period saw the depleted Storm begin to fade due to a lack of replacements on the bench. Despite Zane Kalemba's heroics in the Storm net, the Devils were able to claw one back with less than 5 minutes to go in the 2nd, sending the sold out "Big Blue Tent" to it's feet. Up until then, the Storm had been able to match the Devils, if not out play them when on the break, once again denied some clear cut chances by Bowns in the Cardiff net.
However, the third was the period of the Devil, as the men in red were able to tie things up while on the power play, and then take the lead for the first time in the game just a few minutes later. The Storm however, began to drag their skates and pick up a few penalties leaving them short on the ice. The Devils were able to slot home two time more before the end of the period to seal their victory 5-2, despite the valiant effort of the Storm.
Your Go Goodwin Coaches sponsored Manchester Storm are back in action on New Years Day, when they host the Sheffield Steelers in their 3rd and final Retro game of the season. Face-off is at 3pm with doors open from 2pm.
MOM for the Cardiff Devils #24 Andrew Hotham
MOM for the Manchester Storm #21 Grant Toulmin
Attn: 2300