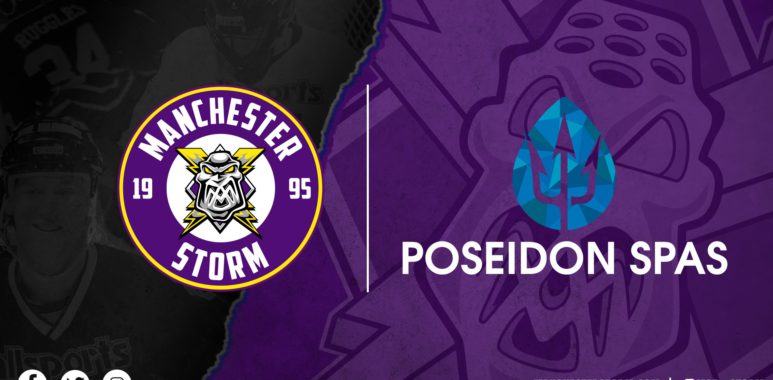 BREAKING | Manchester Storm welcome Poseidon Spas as commercial sponsor for 21/22 season!
Manchester Storm Ice Hockey Club is thrilled to welcome Poseidon Spas to the club as an official commercial sponsor for the 2021-22 Elite League season! 
The award winning megastore sells a variety of hot tubs and other outdoor living products for everyone. Poseidon Spas have a large catalogue and many years of experience in the outdoor living sector, providing their fantastic wellbeing products across the UK. Read more about the company on their blog.
Their hot tub range includes luxury hydrotherapy hot tubs, 32 amp hot tubs and more. This includes UK delivery, installation, instructions and cover, filter and a chemical kit.
Rob White, Managing Director of Poseidon Spas said: "We're extremely proud to be sponsoring Manchester Storm. The team and coaching staff have made us feel very welcome since we have signed up.
Poseidon Spas are the UK's leading affordable hot tub supplier and it's an absolute pleasure to work with a team who are so passionate about performing well, and who have their fans best interests at heart.
We can't wait to get behind the team for the 2021/2022 season and we look forward to offering the supporters of Manchester Storm some fantastic discounts and exceptional prizes that can be won over the coming season."

Manchester Storm Ice Hockey Club would like to thank Poseidon Spas and Rob White for their support ahead of the 21/22 Elite League season! Be sure to give them a warm welcome
Show your support for Poseidon Spas on social media:
Website: https://poseidonspasonline.co.uk
Facebook: @ Poseidon Spas Hot Tubs & Outdoor Living Products
Instagram: @poseidonspasofficial
Contact: 01332 498332
Marketing Enquiries: info@poseidonspasonline.co.uk

#WeAreStorm | #Manchester