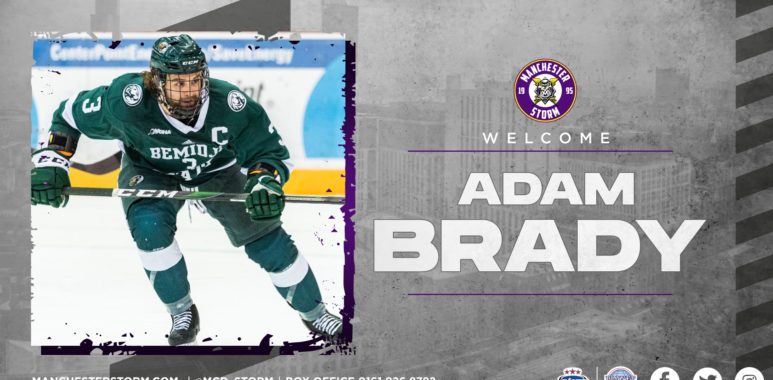 BREAKING | Manchester Storm recruit highly rated Canadian forward, Adam Brady!
Manchester Storm are delighted to announce the signing of Adam Brady, most recently of Kansas City Mavericks (ECHL).

Adam Brady will be sponsored by Manchester based firm, 'StraightIn' for the duration of the 2021/22 Elite League season! We welcome back 'StraightIn' after coming on board in an official capacity during the #2021EliteSeries. More to follow.
Canadian forward Adam Brady produced 36 points in just 57 matches for Kansas City, in his first professional season. The 17 goals Brady tallied were good enough for joint third amongst the Maverick skaters and prior to the global pandemic the forward was being touted for AHL recognition with Stockton Heat.
The Storm have managed to beat off strong competition for his signature in Sweden and rival EIHL teams. Before entering the professional ranks, Brady amassed 81 points (35G 46A) for Bemidji State University in the NCAA. In his senior year at university, Brady was named captain and finished the season being named in the NCAA First All-Star Team.
Head Coach Ryan Finnerty had this to say about his newest recruit:
"We really had to fight off the competition to sign Adam – which is always a good signal. His pedigree at such a young age really caught our attentions and all the reports I have received back about this guy have been outstanding.
He will add something different to our line-up and sees this year as a great opportunity to establish himself on the continent. I made him aware of the number of Elite League guys getting signed in major European leagues is growing annually and there is absolutely no reason why Adam cannot follow in their footsteps.
I think signing Adam at this point in his career is huge for our franchise and you can expect him to log regular minutes within our Top 6, as his speed and shot are things our fans will definitely begin to admire."

Zac Hancox, Founder & CEO of StraightIn, commented: "After getting involved during the Elite Series, we are delighted to be expanding our relationship with Manchester Storm, sponsoring new signing Adam Brady for the 2021/22 season.

Adam has put up a strong performance in the ECHL last season, being one of the leading scorers at his previous club, so we're thrilled to be sponsoring him and looking forward to seeing him on the ice at the Storm Shelter.

I'm super excited to be working with Manchester Storm for the first full UK hockey season in what feels like a lifetime and seeing what this group can do this year."

#WeAreStorm | #Manchester