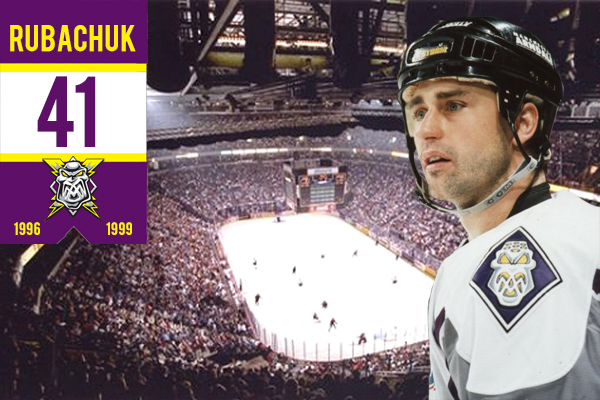 Brad "The Rock" Rubachuk is returning!
TICKETS: The Go Goodwin's Manchester Storm are back in action this Saturday 29th October, as we take on the Cardiff Devils here at the Storm Shelter. Face off is at 7pm and tickets can be ordered online or by calling the box office on 0161 926 8782, or in person at the box office.
In the overall history of the Manchester Storm, only one player has ever had the biggest honour a hockey team can bestow upon them, the retiring of their number. On February 19th 2017, we return the number 41 to its rightful place in the rafters, when we welcome back Storm legend, Brad "The Rock" Rubachuk, to the Storm Shelter for one night only!
On February 19th 2016, at our game against the Sheffield Steelers, your Go Goodwins Manchester Storm will raise the new banner for "Ruby" prior to face-off and will then play the game in special one off jerseys, which will be auctioned off by the club following the game. The designs of this will be revealed in due course.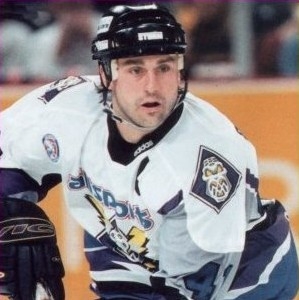 As well as the banner raising, the club will also be hosting a special gala dinner event on the evening of Thursday 16th February, with more details to be revealed about this in due course.
The raising of the banner, which has long been requested by the Storm fans since the clubs re-establishment in the summer of 2015, has been the result of over a year of planning between the Storms GM Neil Russell & Rubachuk.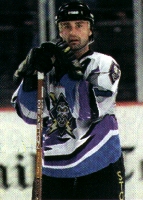 Neil Russell couldn't be more thrilled to have "The Rock" heading back to Manchester, saying "If there is one thing that i have gotten peppered with on a weekly basis over the past 15 months by Storm fans, it's "PLEASE, PLEASE, PLEASE (!) GET RUBY BACK"…..so, after many messages and calls backwards and forwards to North America, it has been organised and we've got the legend returning to the Storm Shelter on Sun February 19th for the home game vs the Sheffield Steelers. Brad will be flying into town with his family a few days in advance of the game, so we will be having a gala dinner on Thursday 16th Feb where we will have some of Ruby's old Storm team mates in attendance also. I expect tickets for that gala dinner to sell out very quickly indeed, so keep your eyes peeled for information for when they go on general release. Also, we will unveil a new Rubachuk banner at the game on Sun 19th Feb vs the Steelers, that will be raised to the rafters again, to remember the contribution Brad made to the original Storm. I cannot wait to get "The Rock" over here, it's going to be an amazing few days for all the fans, both old and new. What a week this has been!!!!!"
For more information on the legend that is Brad Rubachuk, please click HERE.