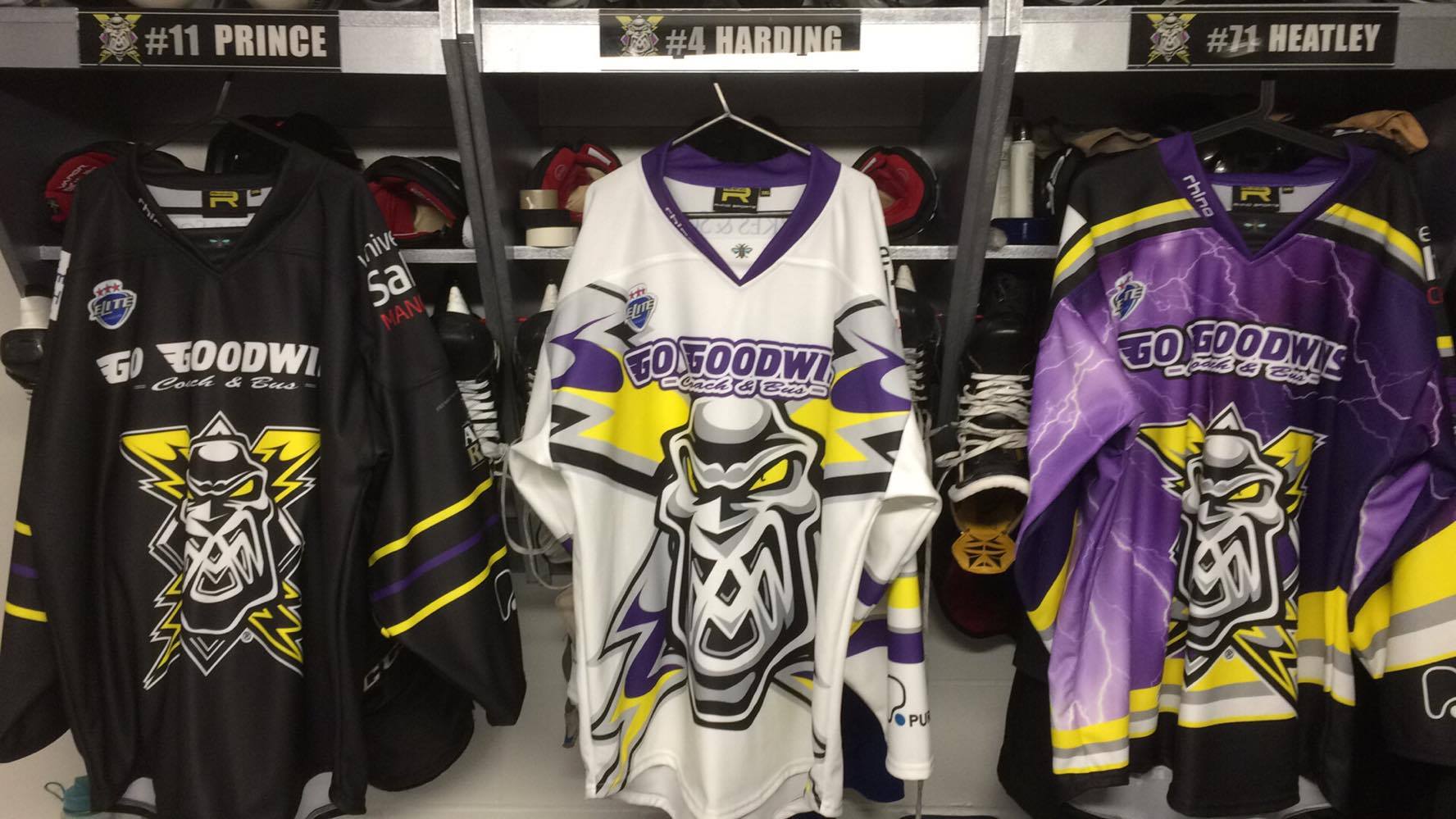 ALL 2016/17 OWN & LOAN SOLD!!!
TICKETS: The Go Goodwin's Manchester Storm are back in home action this SATURDAY & SUNDAY (19th & 20th November), as we take on the Braehead Clan & the Fife Flyers respectively, here at the Storm Shelter. Face off is at 7:00pm on the Saturday & 5:30pm on the Sunday, and tickets can be ordered online or by calling the box office on 0161 926 8782, or in person at the box office.
Your Go Goodwins Manchester Storm are thrilled to announce that every shirt on offer for "Own & Loan" this season has been sold!
All 98 shirts, from the "black out" league home shirt, to The Christie sponsored jerseys, have been picked up by local fans to those from as far away as Chicago in the *United States*!
The final shirt, Phil Spanswicks white league away shirt, was sold to Julie Thorpe this evening and will be Owned & Loaned by "The Thorpe Family".
The entire Storm organisation would like to thank each and everyone of the fans who purchased an "Own & Loan" this year, as the funds raised go directly back into the club! GM, Neil Russell had the following to say about the resounding success of the jersey sponsorships:
'Own & Loan this season has been a resounding success & I can't thank the fans enough for their incredible support.
I'm sure the jersey sponsors are very proud to see their names on their chosen players jersey every weekend, and then come April at the end of the season, the sponsors will get their game worn player jersey to proudly wear for themselves.
Thanks again to all the fans who have supported Own & Loan, it is massively appreciated by myself and all of the team!'
For those fans who missed out on an "Own & Loan" this season, fear not, as it will be returning again next season! If you are still wanting a jersey from this season, then be sure to pick up a replica from the Storm Shop on game days!
MANCHESTER STORM OWN & LOAN 2016/17
| PLAYER | Home (League) | Away (League) | Challenge Cup | Home WarmUp | Away WarmUp |
| --- | --- | --- | --- | --- | --- |
| Omar Pacha | SOLD | SOLD | SOLD | SOLD | SOLD |
| Jack Prince | SOLD | SOLD | SOLD | SOLD | SOLD |
| Adam Harding | SOLD | SOLD | SOLD | SOLD | SOLD |
| Cody Cartier | SOLD | SOLD | SOLD | SOLD | SOLD |
| Mark Heatley | SOLD | SOLD | SOLD | SOLD | SOLD |
| Paul Swindlehurst | SOLD | SOLD | SOLD | SOLD | SOLD |
| Eric Neilson  | SOLD | SOLD | SOLD | SOLD | SOLD |
| Paul Phillips | SOLD | SOLD | SOLD | SOLD | SOLD |
| Trevor Johnson | SOLD | SOLD | SOLD | SOLD | SOLD |
| Connor Varley | SOLD | SOLD | SOLD | SOLD | SOLD |
| Mike Clemente | SOLD | SOLD | SOLD | SOLD | SOLD |
| Patrik Valcak | SOLD | SOLD | SOLD | SOLD | SOLD |
| Mario Trabucco | SOLD | SOLD | SOLD | SOLD | SOLD |
| Matt Bissonnette | SOLD | SOLD | SOLD | SOLD | SOLD |
| Taylor Dickin | SOLD | SOLD | SOLD | SOLD | SOLD |
| Dallas Ehrhardt | SOLD | SOLD | SOLD | SOLD | SOLD |
| Phil Spanswick | SOLD | SOLD | SOLD | SOLD | SOLD |
| Darian Dziurzynski  | SOLD | SOLD | SOLD | SOLD | SOLD |
| Thomas Ratcliffe | SOLD | SOLD | N/A | SOLD | SOLD |
| Nardo Nagtzaam | SOLD | SOLD | N/A | SOLD | SOLD |