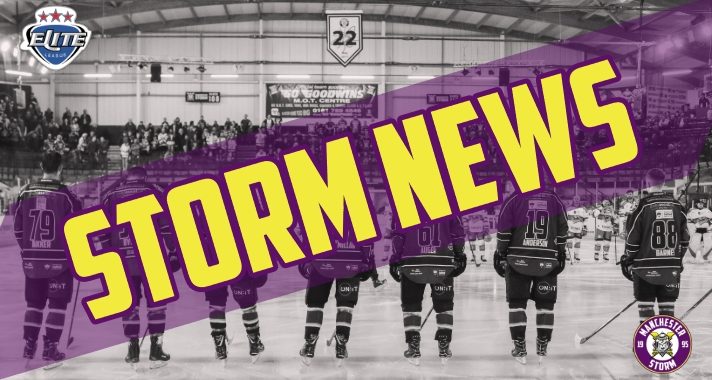 Manchester Storm's Adam Barnes Makes Team GB u20s List!
Tickets for Storm's upcoming game against Guildford Flames can be ordered online HERE, or by calling the box office on 0161 926 8782, or in person at the box office.
Slava Koulikov, Team Great Britain's U20s coach, has named his announced the squad in preparation for January's IIHF World Championship Division II, Group A in Tallinn.
Manchester Storm forward Adam Barnes has made the team's roster as a reserve. Barnes has iced 10 games with the Storm so far this season and has scored 12 points across four games with NIHL side, Blackburn Hawks, who he is signed with on a two-way contract.
From January 13-19, Team GB U20 will face the hosts – Estonia, as well as Lithuania, Koria, Romania and Spain at Tondiraba Ice Hall.
The roster is as follows:
Netminders
Will Kerlin – OHA
Jordan McLaughlin – Solway Sharks
Defence
Bradley Bowering – Peterborough
Ed Bradley – CIHA
Reece Cochrane – Fife Flyers
Jordan Griffin – Sheffield Steelers
Joe Hazeldine – Telford/Nottingham Panthers
Cameron Pound – Kingston Voyageurs
Ben Solder – OHA
Forwards
Mason Biddulph – Islanders
Kieran Brown – Sheffield Steelers/Blackburn Hawks
Jordan Buesa – Fife Flyers
Tyler Cooper – Shattuck St Mary's
Harry Gulliver – Ogden Mustangs
Mac Howlett – Glasgow Clan
Jordan Kelsall – Dundee Stars
Liam Kirk – Peterboro Petes
Richard Krogh – Guildford Flames
Cade Neilson – Yarmouth Mariners
Morgan Pizzo-Clarke – Syracuse Stars
Chad Smith – Fife Flyers
Josh Waller – Guildford Flames
Reserves
NM: Tyler Perre – Swindon Wildcats
NM: Ashley Smith – Hull Pirates
D: Lewis Baldwin – Solway Sharks
D: Callum Burnett – London Raiders
D: Deakan Fielder – Fresno Monsters
D: Joshua Kelly – Basingstoke
D: Sam Russell – New England Wolves
D: Peter Toth – Sutton Sting
F: Adam Barnes – Manchester Storm
F: James Clarke – Skyland Kings
F: Harry Ferguson – MK Lighting
F: Rio Grinell-Parke – MK Thunder
F: Scott Jamieson – Fife
F: Patrick Larkin – Nepean Raiders
F: Austin Mitchell-King – Hill Academy
F: Caly Robertson – Fife Flyers
F: Sam Talbot – Slough