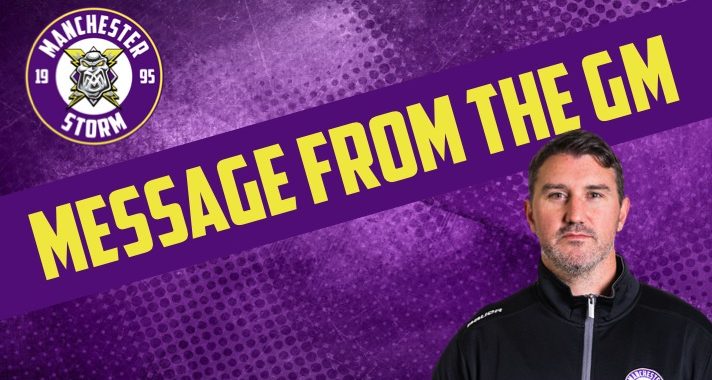 Blogs
Latest News
Message from the GM
Hello Storm Fans,
I'm sure you're all aware we've got a big game at home this Wednesday (16th) against our Conference rivals, the Guildford Flames.
The Flames are a strong team and it's sure to be a great game as we look to keep our Patton Conference defence on track.
We've hit some good form in recent weeks which is really important as the battle for playoff places is really tight with only a handful of points separating 5th and 10th place.  If we keep playing as we have, we'll really start moving up the table.
This will be a special night as it's the only time we're going to be featured on live TV this season, with the game being shown on the Freesports TV channel.
Being on free-to-air TV is a huge opportunity for us to show thousands of potential fans how great the sport of Ice Hockey is and how much fun a night at the Storm Shelter can be.
We all know that it's best when we've got a packed barn and the place is absolutely rocking, but to achieve that we need as many of you in the building as possible, wearing the colours and being loud and proud for the team.
I know it's a Wednesday night and that's tricky for many of you, but if you can please resist the temptation to watch us on the TV and come on down to the Shelter and bring as many friends and family as you can.  You'll make a massive impact, not just helping the guys on the ice, but by showing the watching audience just how great our sport is.
If you can't get people down to the game, then let them all know that they can watch (or record) us on:
Wednesday 16th January – 7pm
Freeview – Channel 64
Sky – 422
Virgin – 533
Freesat – 252
TalkTalk TV – 64
BT TV – 64
We're sure they'll be impressed with what they see and next time you ask them to come to a game, they should be much easier to persuade!
Thanks for your continued support,
Ryan Finnerty